Diaper Stacker, Hand made, White Eyelet/Gingham Flowers
This item is a pretty Diaper Stacker is high quality, hand and machine stiched and sure to be a Family Heirloom!
The Body of the Diaper Stacker is White Eyelet, backed with fine white cotton and trimmed with lt. Sage Green, Pink and yellow Gingham Flowers.
The Diaper Stacker face is edged with panels of the same ginghams and trimmed in two different White Venice Laces.
There is a removable, Eyelet covered cardboard inset in the bottom of the stacker to hold its' shape. The top of the Stacker is padded White Eyelet, trimmed with Green, Satin, Twist Cording and Gingham Flowers.
Holds up to 4 dz. disposable diapers or 2 dz. cloth diapers.
Please see all the matching items in our BABY BOUTIQUE and GINGHAM COLLECTIONS!
DIMENSIONS: 25" long, 15" wide, 9" deep.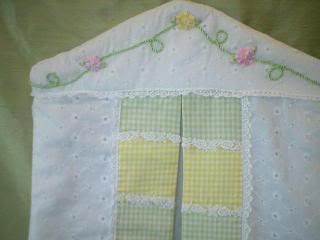 Click To Enlarge