Fabric Covered, Hat Boxes "Victorian Accessories"
This is a pretty set of 3, fabric covered hat boxes. The fabric features: Victorian Shoes, Purses, Hair Combs, Brushs and more.
The lids are lightly padded and rims are painted with Antq. Gold Paint and trimmed with Ivory Braid. The interiors are finished with 3 coats of Antique, Gold, Metallic, Satin Finish paint.
The colors are gorgeous Jewel Tones of: red, blues, creams, metallic gold, Ivory and more.
DIMENSIONS: Small: 7" x 3"; Medium: 7 3/4" x 4+"; Large: 9.5" x 5".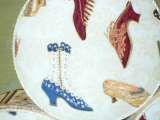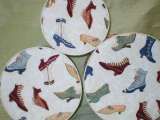 Click To Enlarge