Fabric Covered, Rectangle Hat Boxes, Blue Jean Teddy,
This item is a unique and beautiful Set of Three, matching, rectangular hat boxes, covered in Blue and White Gingham fabric with an inset of Padded and Quilted Blue Jean Teddy Bears on a white background and and trimmed with Matching Blue Satin Cording.
The lids of the boxes are lightly padded and have different Teddies on each. The interiors of the boxes are finished with three coats of color matched paints, and sealed with 3 coats of clear sealer.
DIMENSIONS: Small Box : 9 3/4" wide x 8" deep x 3 1/4" ht . Medium Box : 10 3/4" wide and 9"deep x 4 1/4" ht. , Large Box: 12"wide x 10" deep x 5" ht.
Please see all the matching items in our store.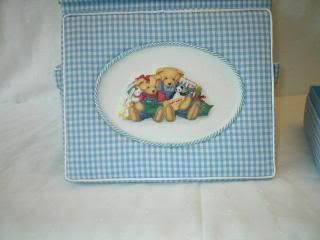 Click To Enlarge