Wooden Fan Box, Pink/Sage Patchwork Roses, Designer Fabric
This item is a beautiful Wooden, Fan Shaped Box.
The exterior of the box is covered in the rare, and very popular Pink/Sage Patchwork Roses Fabric, by Richloom.
(Unfortunately, this gorgeous fabric is no longer in production, so when our current items are gone, they cannot be replaced.)
The top of the box has small Pink Roses with Sage Green Leaves surrounding a Glass Handle.
The exterior of the box is treated with Fabric Decoupage. This protects the fabric from soiling without changing the look or texture of the fabric.
The interior of the box is lined with Michael Miller Sage Green Fan Toile. The interior bottom of the box is padded. The box sits on three Glass Feet.
DIMENSIONS: 10 5/8" X 4 3/4" HT, X 5"
Please see all the matching items in our store.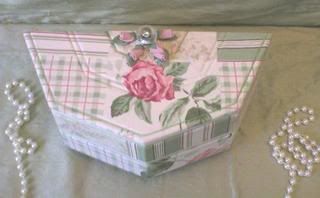 Click To Enlarge